Script
Elasticity of Presence
What is it like to be involuntarily separated from your loved one for a long time? What story lies hidden behind the separation of couples who essentially belong together?
Laurence Aëgerter investigated this question, based upon her fascination for the wedding portraits that Frans Hals made of Stephanus Geraerdts and his wife Isabella Coymans.
The two works formed a double portrait for years, but became separated in 1886, when Isabella's portrait became part of a private collection. Thus, Stephanus has been without his beloved for over 130 years. Aëgerter emphasizes the 'human' side of paintings that essentially belong together. Near the painting of Stephanus she interviewed nine men who were also separated from their partners for a long time due to external circumstances. She places their stories next to the portrait of Isabella that the men have conjured up by lovingly rubbing a pencil across the seemingly blank 'magic paper'.
Related projects:
Elasticity of Presence, Huis met de Hoofden, Amsterdam
Recto Verso (multiple)
Stories
Stories from Elasticity of Presence in the performer's language
Credits
Elasticity of Presence is an installation with a series of nine diptychs, each diptych consists of a story and a drawing by a different narrator. This work has been development in assignment of the Frans Hals Museum Haarlem, curated by Ann Demeester.
Size of each frame: 116 cm x 86 cm
2018
---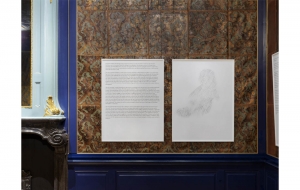 Exhibition view in the Frans Hals Museum, Haarlem
photo: G.J.van Rooij
---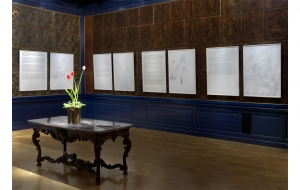 Exhibition view in the Frans Hals Museum, Haarlem
photo: G.J.van Rooij
---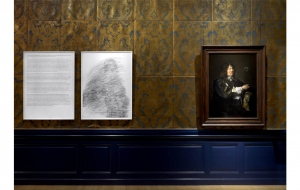 Exhibition view in the Frans Hals Museum, Haarlem
photo: G.J.van Rooij
---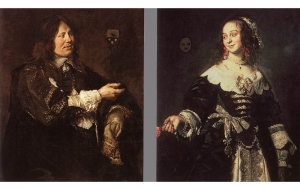 Stephanus Geraerdts and Isabella Coymans by Frans Hals
---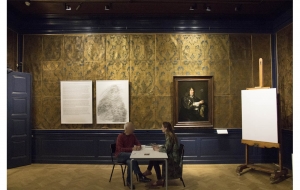 Elasticity of Presence, private performance in the Frans Hals Museum with one of the narrators
---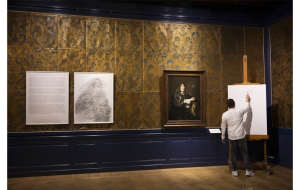 Elasticity of Presence, private performance in the Frans Hals Museum with one of the narrators
---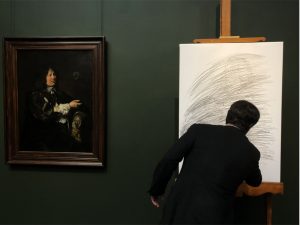 Elasticity of Presence, private performance in the Frans Hals Museum with one of the narrators
---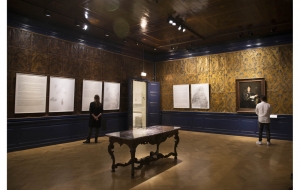 Exhibition view in the Frans Hals Museum, Haarlem
Podcast
Podcast – De Onbereikbare Frans Hals met Laurence Aëgerter