Script
Healing Plants for Hurt Landscapes
This series of photographs is the result of Herbarium Cataplasma, a twofold community art project that Laurence Aëgerter developed at the invitation of the city of Leeuwarden in Friesland, the Netherlands.
Aëgerter led a careful reconstruction of the plan of the medicinal garden of the medieval Abbey of Saint Gall on an unused plot of land in Leeuwarden, which was once part of a convent. This project was realized in collaboration with the local residents.
Aëgerter also invited the residents for a symbolical healing ritual of destroyed landscapes. She selected 100 images by searching the web for photographs of disasters created by nature and man throughout the world.
Participants were invited to treat the photographs of destroyed landscapes with the medicinal plants from their newly built garden, with appropriate herbal therapies (e.g. cannabis for anxiety relief or ginger against pain from burns).
Related projects:
Herbarium Cataplasma
Healing Plants for Hurt Landscapes (artist's book)
The research, proces and results of Herbarium Cataplasma are gathered on the blog Herbarium Cataplasma
Credits
Healing Plants for Hurt Landscapes
Ultrachrome prints

2015
---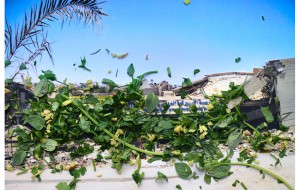 Taraxacum officinale i.a. – Gaza, Palestina, 2015
72 x 110 cm
---
Cannabis sativa i.a. – coastal Japan, 2015
72 x 110 cm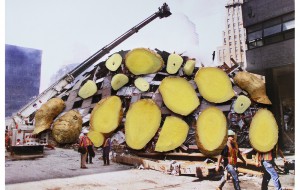 Zingiber officinale i.a. – New York, USA, 2015
72 x 110 cm
---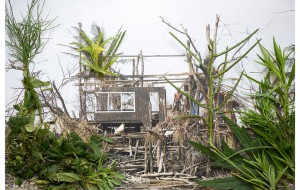 Achilla millefoliu i.a. – Nargis, Myanmar, 2015
72 x 110 cm
---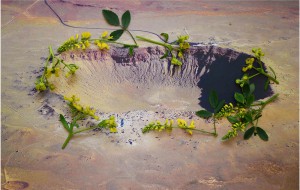 Ruta graveolens i.a. – Barrington crater, Arizona, USA, 2015
72 x 110 cm
---

Althaea officinalis – Al Ahmadi, Kuwait, 2015
72 x 110 cm
---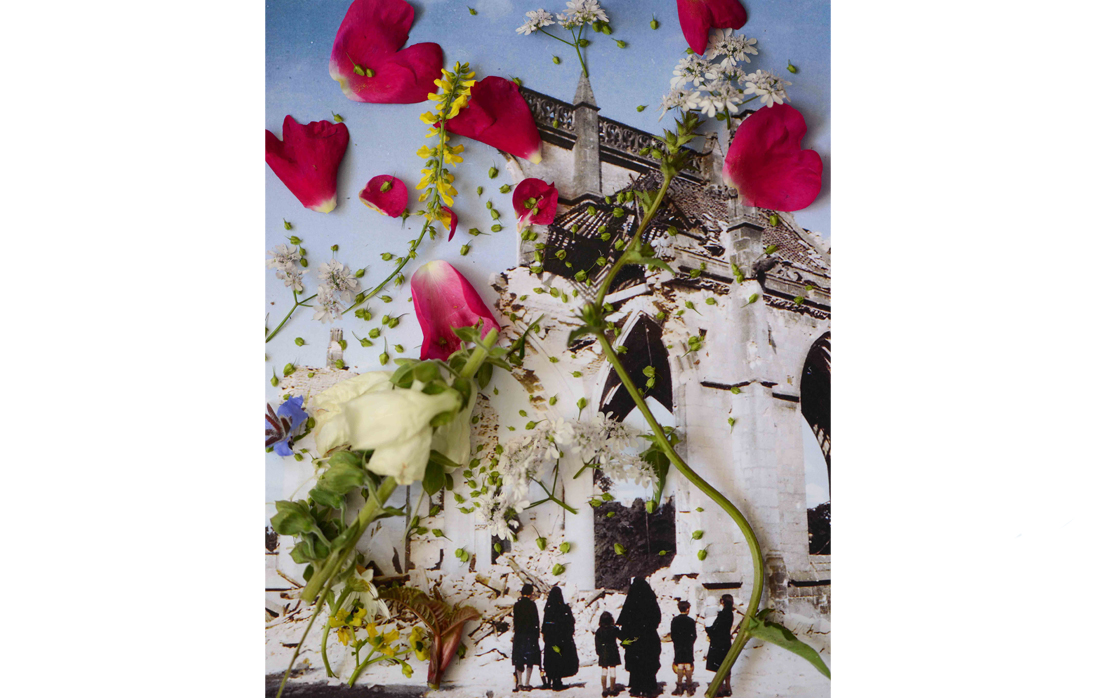 Digitalis ambigua i.a. – Normandy, France, 2015
110 x 89 cm
---
Herbarium Cataplasma, solo exhibition at the Fries Museum, Leeuwarden (NL) 2015
Bonus
A large library of books about medicinal plants was at the disposal of the participants of the workshops Healing Plants for Hurt Landscapes. Here below some of their spontaneous notes collected in the process:
Achillea millefolium: protection against harmful influences and a stimulant for the acceptance of the unavoidable.
Rosa Gallica: Martyrship and pure belief
Valeriana officinalis: calming and used against shock
Sanguisorba officinalis: styptic, a herb found at the playground of the Oldegalileën: analgesic and embolding
Cichorium intybus: Healing of mental wounds. Life enfolds itself at it's own pace and balance
Palestine with heart reinforcing three-color Violets for mercy and love for the "enemy" who resides in the same oppressive position
Foeniculum vulgare: pain killing and soothing. The thick stem and delicate twigs embold to keep a straight back and to stay reinforced.