Script
Opening Soon / Opening Now
Opening Soon / Opening Now is a project, which led to a wide range of new and largely autonomous projects. As an artist-in-residence Aëgerter, together with the other participating artists, was given the tacit assignment to 'purify' a former brothel by means of art. By stacking various temporary functions, she reversed this uneasy position and turned it into a public space. Thus she set up, amongst others, a temporary library, a golf club, a snack bar and a public swimming pool in the former brothel. This rapid succession of ambitious services in an area measuring only 9 square metres, is typical of the irony with which she challenged the absurdity of this assignment.
Related projects:
Opening Soon / Opening Now (multiple)
KP23
Credits
Opening Soon / Opening Now
Artist-in-residence program of Stedelijk Museum Bureau, Amsterdam and the City of Amsterdam
A series of 18 silkscreened posters was developed for Opening Soon / Opening Now in collaboration with graphic designer Jennifer Skupin.
During the period of November 2008 – November 2009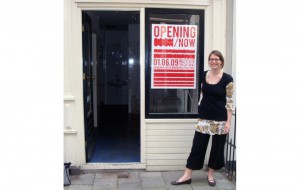 Nicole Immler (dr. in filosofie) is wetenschappelijk medewerker aan de Oostenrijkse Akademie der Wetenschappen en doet onderzoek naar 'Culturele Herinnering' aan de Universiteit van Utrecht.