Script
Elasticity of Presence
In 1644, the year of their wedding, Frans Hals painted pendant portraits of Steven Geraerts and Isabella Coymans. Not only are these two paintings complementary, they also reinforce each other because of the portrayed strong mutual commitment. The two pieces were parted from each other. The portrait of Steven was sold to the Museum of Fine Arts in Antwerp, and that of Isabella to a private collector, Alphonse de Rothschild in France. Since that time, the two portraits have led separate lives.
In the Huis met de Hoofden in Amsterdam, where they have probably met more than 350 years ago, the history of Steven and Isabella is rewritten and the magnetic power of attraction existing between them is perceptible once again. Three in-situ installations are connected with each other at various levels. As you move through the house, a narrative unfolds that brings the past very close.
Related projects:
Elasticity of Presence, Rendez–vous met Frans Hals, Frans Hals Museum, Haarlem
Credits
Elasticity of Presence
in situ installation, Huis met de Hoofden, Amsterdam, future location of the Bibliotheca Philosophica Hermetica.
leather, entwined horse's hair, photographs, iron powder and magnets, paper and ink.
The installations were made in collaboration with art historian and art theorist Renée Borgonjen
Source: pendant portraits of Steven Geraerts and Isabella Coymans by Frans Hals, 1644
2013
---
Counterpiece – Marriage certificate 1644, a reconstruction, The presence of the spouses makes itself felt once more in the marriage certificate signatures as they are reproduced in leather. The signatures incline towards each other in the same way, as do the persons in the companion pieces. The source of the installation is to be found in the symmetrical bridle cases in the coachman's room on the first floor, where two bridles are connected with linking reins. They unwind via the stairwell and across the corridor into the heart of the house that was once inhabited by the man who witnessed their marriage and who placed his signature underneath theirs more than 350 years ago.
---
Galeotto (The Matchmaker) A page opening from The Embarrassment of Riches by Simon Schama with 23 horsehair strings in the centre, one for each year since the two last met at an exhibition in 1990.
---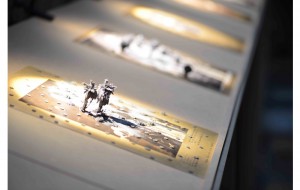 Principles of Magnetism, A facsimile of all twelve reproductions of Frans Hals' paintings of Steven Geraerts and Isabella Coymans in the RKD, The Hague, is added with magnets and iron powder following the pattern in Descartes' illustration of a magnetic field in his Principia Philosophia, which was published in Amsterdam in 1644, the year they were married.