Script
Compositions catalytiques
Aëgerter gave a guided tour of several paintings in the collection of the Centraal Museum in Utrecht for a group of clients and supervisors from the Altrecht ABC group, a facility that offers ambulatory care for young people with psychotic vulnerabilities.
Curious about the participants' extraordinary powers of imagination, Aëgerter asked them to analyze the form and content of the paintings. With a range of basic materials, the ABC group worked on top of paper reproductions of the paintings. The expressive and uninhibited works by the ABC group prompted Aëgerter to work with the paintings herself. Aëgerter reproduced the photos at their original scale.
Credits
Compositions catalytiques, 2017
Ultrachrome prints
.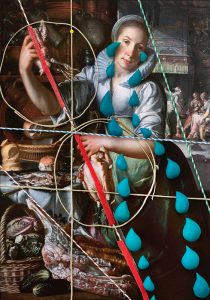 28599-1710201020 (Wtewael)
103.2 x 72.3 cm
Joachim Wtewael, 'The Kitchen Maid'
---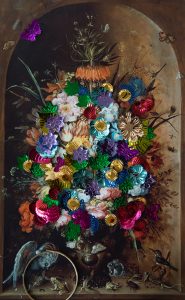 2310-1710201033 (Saverij)
130 x 80 cm
Roeland Saverij, 'Large still life with Imperial Crown'
---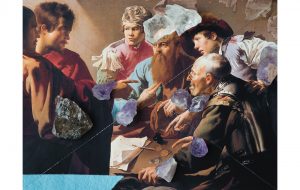 5088-1710311249 (Ter Brugghen)
102.3 x 136.9 cm
Hendrick ter Brugghen, 'The Calling of Saint Matthew'
---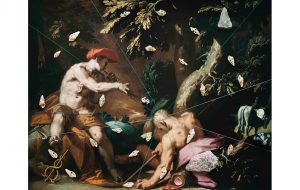 22657-1710291740 (Bloemaert)
63.5 x 81.3 cm
Abraham Bloemaert, Mercurius, Argus and Io
---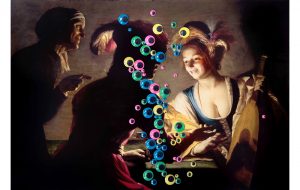 10786-1710201438  (van Honthorst)
71 x 104 cm
Gerard van Honthorst, 'The Matchmaker'
---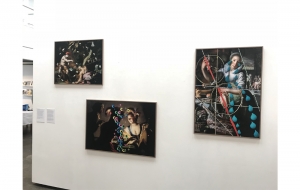 Exhibition view ' Beautiful Distress', Nieuw Dakota, Amsterdam
Audio guides
The audio guides belonging to the Compositions catalytiques have been written and voiced by young people with psychotic vulnerabilities.
They share their personal interpretations of the works with the viewer.
Audio guides (Dutch spoken; for the sake of privacy the names here below are fictional)